Watch: Guitar Shop Security Camera Captures Ghostly Activity?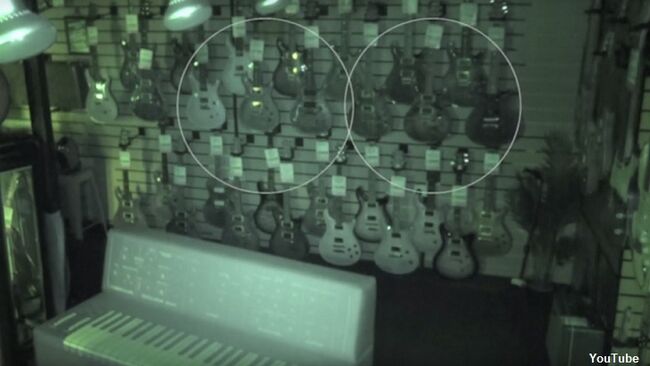 A spooky piece of security camera footage from a music shop in England appears to show a number of guitars seemingly being moved by an unseen force that the owners suspect could be a ghost. The store in question, known as 'Guitars, Amps, and Keyboards,' is reportedly located in the city of Brighton. The proprietors of the establishment suspect something was amiss last month when the security system filmed a weird wispy form that looked to almost be browsing the store.
Their already-piqued curiosity went to 11, so to speak, when cameras at the store captured some odd activity that occurred when the shop was closed. In the video, which can be seen above, a pair of guitars hung along a wall inexplicably begin moving as if someone or something is touching them. Later in the footage, a price tag can be seen falling from another guitar in a fashion which suggests that it was yanked off the instrument.
Check out the puzzling footage and find out more about this story at the Coast to Coast AM website.

Coast to Coast AM with George Noory
Want to know more about Coast to Coast AM? Get his official bio, social pages & articles on iHeartRadio!
Read more